US VP DEBATE
I constantly feel the need to comment on this because I feel like we are always affected by whatever is going on in the US. Sad but true. So, the first and only VP debate went down. And true to form, Palin cemented my belief that she does NOT deserve to win. Here are a few rather
interesting
quotes:
Palin on Obama: "Barack is a downright dangerous choice for president." --
seriously, she thinks she is in any position to say this? Seriously?
Palin on Climate change: she was quick to say that she isn't one to "attribute every activity
of man to the changes in the climate."
"There is something to be said also for man's activities, but also for
the cyclical temperature changes on our planet," she said. --
I say, have you been living under a rock? What do you mean cyclicaltemperature changes? Do you mean to tell me that global warming is just an effect of Mother Nature being moody?
I therefore conclude that Palin is a deluded "hockey mom" who, despite living in a place covered in ice, does not understand climate change. Darling, I'm sure you're a great mom and I'm sure you have a good track record in terms of moose hunting but if you don't get what climate change is, you sure are the one who is dangerous. For the sake of good old Mother Earth, I hope she loses so she can just go back to doing what she does best--being a hockey mom and eating moose burgers.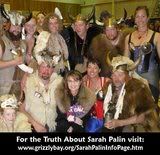 ******
On that note, I would like to end this blog with something about Britney Spears. Pasensya, but thinking about Palin reminds me of Britney, Paris and all the dumb blondes--even if Palin is a brunette. Harhar allow me to be bitchy...
This is Britney's "comeback" single. Really... What was she coming back as?
womanizer - britney spears